Straightening Your Smile
Everyone deserves a smile they can be proud of. Many people have suffered from misaligned teeth or jaws not understanding the orthodontic process. You don't have to be one of them. Take advantage of one of Chestnut Dental's many options for straightening teeth. If you want to enhance your smile, improve your oral hygiene and avoid future issues caused by misalignment, it's time to visit our amazing team. With offices in Bedford, Needham, or Franklin, your appointment may be closer than you think.
The Orthodontic Process
Dental science has advanced so fast, that you have many solutions that can straighten your teeth. However, no matter what method of treatment you choose, the process is very similar.
Step 1: Consultation
The consultation is the easiest part of the process. Schedule a consultation with our orthodontic specialist who can talk to you about your teeth and recommend a solution that fits your needs and your lifestyle. With some variation depending on your choice, your doctor will also record your mouth shape with a 3D camera or other device and begin the process.
Step 2: Placement and Fitting
Let the process begin! With traditional braces, today is fitting day. Brackets and wires will be placed where they are needed with precise tension for optimal alignment and comfort. With other solutions like Invisalign, this is when your trays come in and your doctor will check the fit and tension to ensure everything is comfortable and working properly. As your teeth shift into place, you'll need to follow up to readjust and track your progress.
Step 3: Retaining Your Smile
You did it! Congratulations on your beautiful smile. You will have all the treatment devices removed and your teeth polished to show you incredible results. You will be amazed at how a straightened smile transforms your entire appearance. Keeping your smile straight may require a retainer which you will wear temporarily for a few hours at a time. Your doctor will go over how to keep your smile looking spectacular.
Questions about Adult Orthodontic Treatment?
Is orthodontic treatment still possible after all permanent teeth are in?
Braces aren't just for kids anymore, and adults comprise a large percentage of our orthodontic patients. Tooth alignment can be changed at any age if your gums and bone structure are healthy. We offer a variety of treatments that are designed for different age groups – including adults. A new smile can begin today!
What are the advantages of adult treatment?
Orthodontic treatment at later stages in life can dramatically improve your personal appearance, your self-esteem and your health. Crooked teeth and a bad bite can contribute to gum and bone loss, tooth decay, abnormal wear of the tooth enamel and surfaces, headaches and jaw joint (TMJ/TMD) pain. Orthodontic treatment can also address certain sleep disorders, such as bruxism or teeth-grinding, improving the quality of your sleep and thus your health in general.
What kind of orthodontic treatment is available for adult patients?
See our page on Invisalign for more information. The new techniques and appliances we use greatly reduce discomfort levels, decrease the frequency of visits and shorten treatment time. Furthermore, options exist for making treatment virtually unnoticeable – such as translucent or porcelain braces and transparent aligners like Invisalign®.
During your examination, we will be able to determine the best possible treatment for your individual needs. See our page on planning your first visit for more information.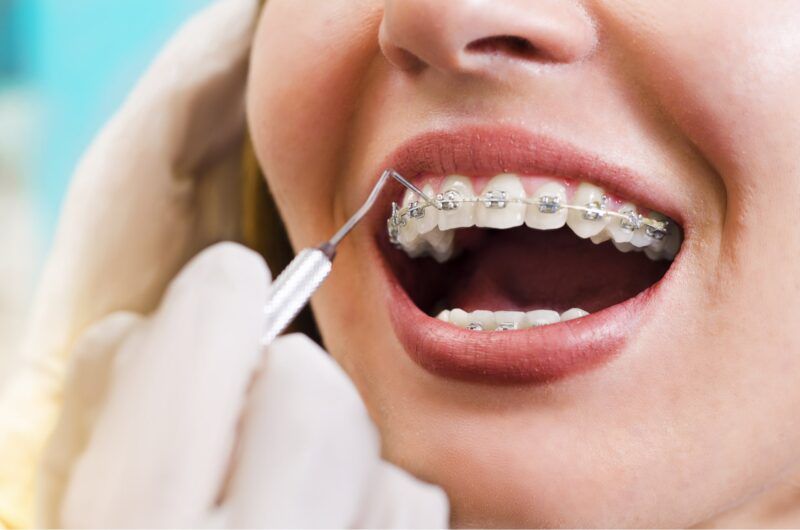 Why Choose Chestnut Dental for Adult Treatment?
With traditional or modern options, a straighter smile is something anyone can enjoy. The orthodontic team at every Chestnut Dental location is dedicated bring you a happy and healthy smile. Visit one of our three locations to get more information and see what a transformed smile can do for your health and your smile.