Child, Pre-Teen & Adolescent Treatment
Although braces and other orthodontic treatments can straighten teeth at any age, treatment is usually more effective on children whose bones are still growing and forming. While there's no exact age for braces, the American Academy of Orthodontists recommends children have their first visit by their 7th birthday. The initial visit evaluates the child's teeth, airway, and oral habits. The first visit is also a great way to determine what future treatment will be necessary. If you have questions about your child's oral health, Chestnut Dental's orthodontics team is here to help you and your child have healthier, straighter smiles.
The Orthodontic Treatment Process
What can you expect when you come in to our office for treatment? It all depends on what kind of treatment you need. The first time you come in, we evaluate your need for orthodontic treatment. If you are ready for treatment, then we schedule a records appointment to take pictures, radiographs, and a digital scan of your teeth (no more impressions!), and we schedule a consultation appointment to review the diagnosis and treatment plan with you.  
Treatment typically involves metal braces, clear braces, or Invisalign, as you can see below. Once braces or Invisalign treatment has begun, adjustment appointments occur at approximately 8-10 week intervals.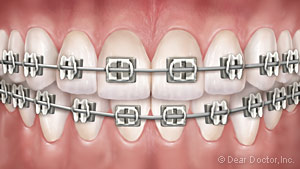 Metal Braces are smaller than ever, yet still come with over 20 colors.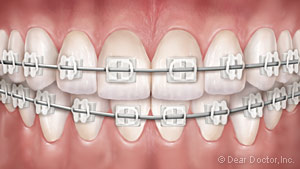 Clear Braces feature brackets made of ceramic that blend in with your teeth, making them harder to notice.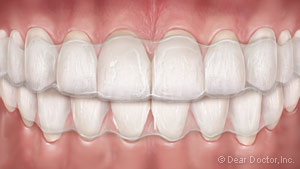 Invisalign is a series of removable, clear plastic trays that gradually straighten teeth as they're worn.
How Long Will I Wear Them?
There's no one answer that fits everyone: It all depends on what we need to do in your individual situation. Generally, however, comprehensive orthodontic treatment lasts about 18-24 months. Afterwards, you will wear a retainer so you can enjoy your smile you created for a lifetime.
Early Treatment
Phase One Treatment
Most patients will begin treatment when they have nearly all their adult teeth, around 11 or 12 years old. However, for some patients an earlier orthodontic phase is needed.  
Common reasons for Phase I treatment:
Stop a thumb or finger sucking habit
Correct a crossbite
Make room for crowded teeth
Decrease the protrusion of upper front teeth ("Buck teeth") to reduce the risk of chipping these teeth 
Catch ectopic eruption of adult teeth early.  Ectopic teeth are teeth that are erupting out of place.  Identifying and treating these teeth early reduces your treatment time and reduces the risk of damaging nearby teeth.
For more information on the initial exam and consultation to determine if orthodontic treatment is right for you, see our page on planning your First Visit.
Questions About Orthodontics
When is the best time to begin orthodontics?
Though an orthodontist can enhance a smile at any age, the correct timing can simplify your treatment and reduce the length of time.  The American Association of Orthodontists recommends that the initial orthodontic evaluation should occur at the first sign of orthodontic problems or no later than age 7. At this early age, orthodontic treatment may not be necessary, but examination can anticipate the best time to begin treatment.
What should I expect at my child's first orthodontist appointment?
Your first orthodontic screening will include a visual examination as well as maxillofacial x-rays. Your orthodontist may also ask you questions about your dental habits. Based on the results of this analysis, the orthodontist will discuss options and timeframes for treatment if applicable.
What types of treatments will my child's orthodontist use to correct misaligned teeth?
Orthodontists often use special appliances, such as braces, to bring a child's teeth and jaws into proper alignment. Mouth appliances are custom-fitted and may be fixed or removable. In some cases, an orthodontist may recommend that certain teeth be removed to facilitate treatment.
Will I need to follow any special instructions if my child is fitted for a dental appliance?
Yes. If your child is fitted for a fixed orthodontic appliance, such as braces, you will need to follow careful instructions to ensure the device is not damaged or broken. This includes monitoring your child's diet to ensure it does not include hard foods, candies, popcorn kernels, or anything else that could cause damage. You'll also need to ensure your child properly brushings and flosses around the appliance to protect the teeth from decay during treatment.
Why Choose Chestnut Dental for Child & Adolescent Treatment?
Orthodontics is usually the last step in your child's oral health journey. Once their adult teeth are coming in and any other dental concerns have been addressed, your child can begin the alignment process. Rest assured, with a talented and experienced orthodontic team at every Chestnut Dental location, your child will have a beautiful smile in no time. If you are a parent considering orthodontic treatment for your child or yourself, schedule a consultation and find out how braces and other treatments can benefit you. With offices in Needham, Franklin, and Bedford your appointment may be closer than you think.